Cellphone & Web based Management System
Driver ID TAG, ensures driver's identification for each trip and added immobilization security – optional extra.
Daily Report SMS with vehicle trip summary information, this confirms system functionality.
Stationary immobilizer for extra security is available for specific vehicles – optional extra.
WRU© (Where aRe yoU) tracks your vehicle via SMS from your cellphone in real time.
Panel Tamper Alarm, provides early warning of unit tampering – optional extra.
Web access via i-Locate to view past vehicle trip information.
STATUS – System Health Check Report on cellphone.
Detailed Trip report via email daily, weekly, monthly.
VRU – Visual Map Position via SMS link.
Store Historical Data for 12 months.
Fuel sensor – optional extra.
Ultra Sensitive GPS.
Battery Low Warning.
Over speeding Alarm.
Ignition Sensor.
Call in Position.
Backup Battery.
Zone Alarms.
WHAT WE WILL MONITOR
COVERAGE
GET THE LEAFLET
DEVICE COMES WITH A ONE YEAR WARRANTY
• TERMS & CONDITIONS APPLY 
• Monthly subscription is subject to an annual escalation of 8%. Fuel Surcharge: R5.50/km applies to all Installations/Repairs that fall outside a 50km radius from CellStop Base.
REDUCE COSTS AND INCREASE PROFITS BY KEEPING TRACK OF YOUR FLEET WITH I-LOCATE
THE I-LOCATE PROVIDES REAL TIME INFORMATION OF YOUR VEHICLES. AN EASY-TO-USE WEB INTERFACE ALLOWS THE MOST CONVENIENT WAY TO CONTINUOUSLY TRACK IDLE TIMES, PAST AND PRESENT VEHICLE MOVEMENTS

FEATURES:
WITH DRIVER ID INSTALLED: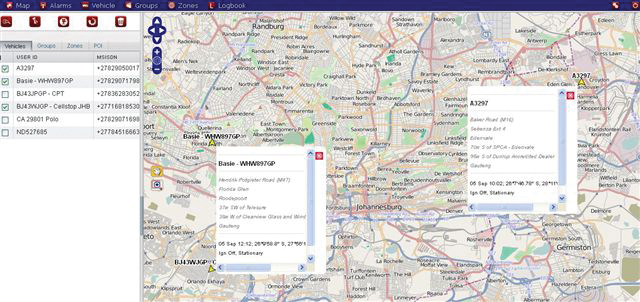 OUR APP FEATURES
CellStop puts the power in your hands. Access and Monitor all your vehicles from any location in the world, at any time. With the new CellStop mobile fleet management application you can view all your vehicles on a single map in real time Access information about location, speed and trip reports and get alarm notifications of all fleet vehicles. This app will save you time by giving you the ability to make quick decisions with the real time information it provides. Existing CellStop customers can simply download the app and log in with their i-Locate username and password. If you recently installed a Cellstop system, auto register a login to view your vehicle.
Key Features:
Real Time Location on map
Speed and other alarm notifications
Select which vehicles you want to view on the map
Trip Replays
View labels or registration numbers
View driver information
View vehicle information